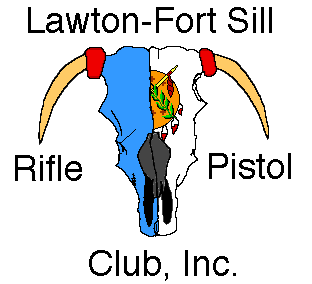 copyright 1998 J. Charles: used by permission
P.O. Box 2402
Lawton, OK 73502-2402
---
"A well regulated Militia, being necessary to the security of a free state,
the right of the people to keep and bear arms, shall not be infringed."
Second Amendment, United States Constitution

"The right of a citizen to keep and bear arms in defense of his home, person, or property,
or in aid of the civil power, when thereunto legally summoned, shall never be prohibited;
but nothing herein contained shall prevent the Legislature from regulating the carrying of weapons."
Article 10, Section 26, Oklahoma Constitution

The Lawton-Fort Sill Rifle and Pistol Club is incorporated in the State of Oklahoma.
The Lawton-Fort Sill Rifle and Pistol Club is a private organization
and is not an agency of the U.S. Army or of the U.S. Government.
---
The Regular Membership Meeting will be MARCH 8th.
The "Party Room" at the Pizza Hut is not available on our regular meeting date..

---
Regular Membership Meeting
May, 2018, Lawton, Oklahoma (date TBA)
Lawton, Oklahoma (Location TBA)
Meeting begins: 7:30 PM
E-mail for information
Firearms Education for Youth Programs
In 2018 the Lawton-Fort Sill Rifle & Pistol Club plans to begin hosting youth shooting activities at our new range facility. If you have an organized, sponsored youth shooting program (4H, FFA, BSA, etc,) and need range support, please contact ua at E-mail.
Oklahoma Rifle Association 2018 Club Challenge Match
Saturday, April 28, 2018, Davis, Oklahoma
Competition Shooters of Mid-America indoor range just west of Davis
Competition begins 9:00 am.
Entry fee of $60 for one (1) four-man* team includes lunch for team members.
Competition includes .22 rf pistol, .22rf rifle, air rifles, and .45 Colt revolvers.
All team members must be members of an ORA Affiliated club.
*Eligible shooters may be adult or junior, male or female.
Contact your club's ORA representative for more information.
Write to Congress, House and Senate
---

More About the Club
(updated February 20, 2017)

Club Programs and Events
(updated August 11, 2017)

Area Events
(updated March 9, 2018)

Links of Interest to Shooters
(updated April 20, 2017)

Articles of Interest
(updated September 21, 2017)

Commonly Available Bolt Action Military Rifles
(updated November 13, 2017)

The Story of Waldoe
(updated March 20, 2001)

E-mail
---
Total Visits To This Website






This web page was last updated on March 9, 2018